Maruti Suzuki India has finally launched their new angel from their cradle of wonders. The all
new Maruti Swift
has been launched today in New Delhi at the Brand Center, Maruti Suzuki Corporate Office situated by the Nelson Mandela Road. The
new Maruti Swift
is one of the most anticipated car this year which acquired approximately 40,000 pre- launch bookings.
New Maruti Swift price
is kept around Rs. 4.22 lakh to Rs. 6.38 lakh depending upon the variant. The speculations about the new Maruti
Swift price
is over now as the announcement of the the real price has been made during the launch. New Maruti
Swift
price starts from Rs. 4.22 lakh for its low end variant and goes upto Rs. 6.38 lakh for its high end variant.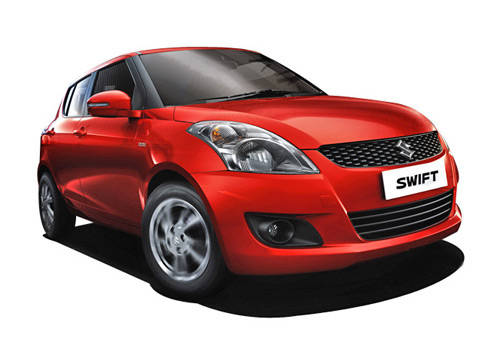 See More
New Maruti Swift Pictures
Read More on
New Maruti Swift
The all
new Maruti Swift
will come with a choice of six variants. Three of which is petrol variants and the rest three are diesel variants. Maruti Swift LDi which is available in Rs. 5.17 lakh and Maruti Swift LXi which is tagged at Rs. 4.22 lakh are the low end models of diesel and petrol variants respectively. New Maruti Swift VXi, a middle range petrol variant is priced at Rs4.76 lakh and the new Maruti Swift VDi, another middle range diesel variant is tagged at Rs 5.61 lakh. The two high end petrol and diesel variants, new Maruti Swift ZXi and new Maruti Swift ZDi models are priced at Rs. 5.53 lakh and Rs. 6.38 lakh respectively.
See More
New Maruti Swift Pictures
Read More on
New Maruti Swift

New Maruti Swift specifications
shows that the diesel variants are equipped with 1.3 litre DDiS diesel engine which will return a maximum power of 75 PS and 19.2 kg torque with mileage of upto 18.7 Kmpl. The petrol variants are powered with 1.2 liter petrol engine throwing a maximum power of 87 PS of and 11.5 kg torque with mileage upto 22.9kmpl. Fuel efficiency is high on row as an attempt to put increment of upto 4 percent in petrol and 6 per cent in diesel variants is worked upon.
New Maruti
Swift reviews
tells that Maruti Suzuki India and related firms invested more than Rs. 550 crore to enhance the new Maruti Swift with more sporty and trendy look. The localization of 95 per cent is returned by the new Maruti Swift. This new hatchback is lengthier and lighter than the older model and it will have a plastic fuel tank which reduces most of the weight.