The new Renault Duster which was recently launched in the Indian car market has presented the car enthusiasts with a stylish SUV. Maruti also launched a MUV named Maruti Ertiga bit earlier than the Duster. Both Renault Duster as well as Maruti Ertiga are known as compact SUV models. Both these models fall under the same category. Hence, they are targeted for similar customers in the market. Thus, it is pretty sure that they will face tough competition in the Indian automobile market. Maruti has the benefit of being an Indian company, which along with its performance and quality has helped it a lot in earning a lot of reputation from Indian customers. While, Renault is trying to establish its foot in the Indian market and thus, Duster is full of features, which a customer desires in the SUV. Renault Duster has been praised a lot by critics for its elegant exteriors, beautiful interiors, powerful performance and affordability. On the other hand, Maruti Ertiga has been sold a lot due to its being reliable, affordable and brand.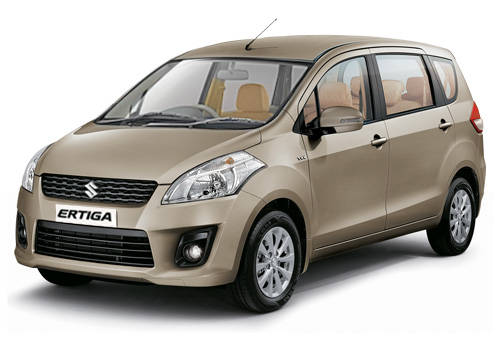 Renault Cars introduced the Duster with special features like rugged appearance and dynamic style. It has very powerful lamps in the front, powerful wheel archer, bumpers with sporty appearance and sporty roof rail. The sport features give it a perfect sporty look. The logo of the company is perfectly fitted in the middle of the grill. The rear area has a stylishly curved lid, high stop lamp and D shaped rear lights. On the other hand, the new Maruti Ertiga from the Maruti cars is simple and compact MUV. It is suitable for the road of any crowded city street as it takes less parking area and space for movement. Maruti Ertiga car has special features like, clear lights in the front, stunning flare fender, specially designed rear lights and sporty appearance. The engine of the Renault Duster is a diesel engine of 1.5 litre CRDi. It can generate power up to 110 bhp at 4000rpm. The car is available with both petrol and diesel engine support.

The Maruti Ertiga is equipped with the new K14 VVT 1.4 litre engine which can run on petrol. Besides, engine and performance, both cars have special features also. The Duster is equipped with stylish features like power windows, power steering and electronically adjustable seats. It also has tinted glass, rear wiper, foldable seat, radio, glove box, MP3 player with Bluetooth. The Ertiga is a compact yet comfortable car with dynamic features like manageable electric power steering, double air conditioner, keyless entry and USB controlled audio section. The Renault Duster price is between the price range of Rs 7 lack to 9 lakh. But Maruti Ertiga price is available at Rs 5.89 lakh to Rs. 8.45 lakh in the showroom of New Delhi. Both these models are rich in features. Now you have to decide based on you budget and mind set. If you want a sport car, then Renault will be the right choice. But, if you plan to buy a car for regular office going purpose then Ertiga will be the compact selection. Maruti india has cars for every segment.