From the well known German car manufacturer, Skoda Rapid. Skoda cars has recently launched the upgraded model of the car in the European market and it is expected that soon the upgraded version of the car will be seen on Indian roads also. At present Skoda Rapid is available in 13 different models offering both petrol and diesel engine options. On the other side we are having Maruti Suzuki Swift Dzire which is ruling the Indian compact sedan car market from quite some time. The stelling success of Maruti Swift Dzire is accredited to the immense trust that the Indian audience have in the brand Maruti cars. It is expected that as soon as new Skoda Rapid will enter the Indian car market it can prove to be a tough competitor of Maruti Suzuki Swift Dzire. Maruti Swift Dzire price ranges from 4.90 lakhs to 7.34 lakhs and Skoda Rapid price is tagged around 6.90 lakhs to 9.50 lakhs, here Swift Dzire wins the toss.
Now if we talk about the engine and performance of Skoda Rapid. Diesel variant of Skoda Rapid is equipped with 1.6 liter TDi engine which is capable enough to produce an outstanding power of 103.56bhp at the rate of 4400rpm with maximum torque of 250Nm @ 1500-2500rpm. Diesel engine of Maruti Suzuki Swift Dzire is blessed by 1.3 liter DOHC diesel engine with CRDi fuel injection system with decent power of 74bhp @ 4000rpm with peak torque of 190Nm at the rate of 2000rpm.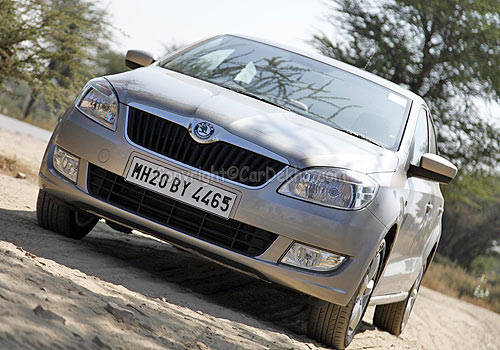 If we take a look at the petrol engine of the cars then Skoda Rapid is having 1.6 liter MPI engine with decent power of 103.56bhp at the rate of 5250rpm and produces amazing torque of 153Nm @ 3800rpm. Where as Swift Dzire petrol engine is equipped with 1.2 liter K series engine producing an amazing power of 86bhp at the rate of 6000rpm with the peak torque of 114Nm @ 4000rpm. So if wome one wants better performance then he/she must go for Skoda Rapid. But if talk about mileage of Skoda Rapid diesel variant, car is offering around 16kmpl and Swift Dzire is offering an amazing mileage of 23.4kmpl. Which might be the another prominent reason for increased sales chart of Dzire as compared to Rapid, because India is the country where more majority of population looks for the car which offers better fuel economy. If we talk about the Exteriors of the cars then Swift Dzire is offering more elegant looks.